We have a lot going on in 2019 so book your trip soon as our calendar is filling up quick.  We expect another stellar year fishing down here in Magdalena Bay and hopefully loaded with wahoo, tuna, marlin, dorado and more!
As our season gets near for prime time fishing we wait patiently for the time to come.    Though we have spent a fair amount of time inshore this spring so far and has been pretty decent for the non pelagics.
The Pacific can be brutal at times offshore in the winter time but that doesn't keep us away.  Right now we've only been getting to the islands for some grouper, yellowtail and white seabass fishing.  Yes I said white seabass and of size too!
Never overlook our local islands they hold fish all year long. Look forward for our reports to start up in June with fishing conditions.  Joseph will be back down in May to check fishing thoroughly and prepare some odds and ends for the season.  We've also assembled a team to compete in the first annual Robert Ross tournament in Loreto where we will be taking the Cape Horn across and seeing what we can do (wish us luck).  Joseph will have some fish pictures here shortly we will be getting out and getting some fly fishing and lure fishing done at the islands.
We have done some special planning this year to make our trips even better, so get ready for a fishing adventure of a life time in Mag Bay BCS.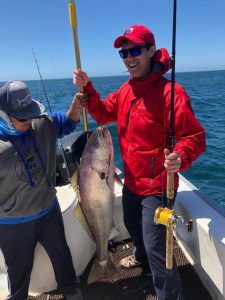 Social Share